Investing in Tiny Homes for Passive Income
Are you ready to make a smart and sustainable investment this year? Consider the rising trend of tiny home rentals! Beyond the allure of a minimalist, eco-friendly lifestyle, these compact dwellings offer something truly remarkable: the chance to transform your investment portfolio.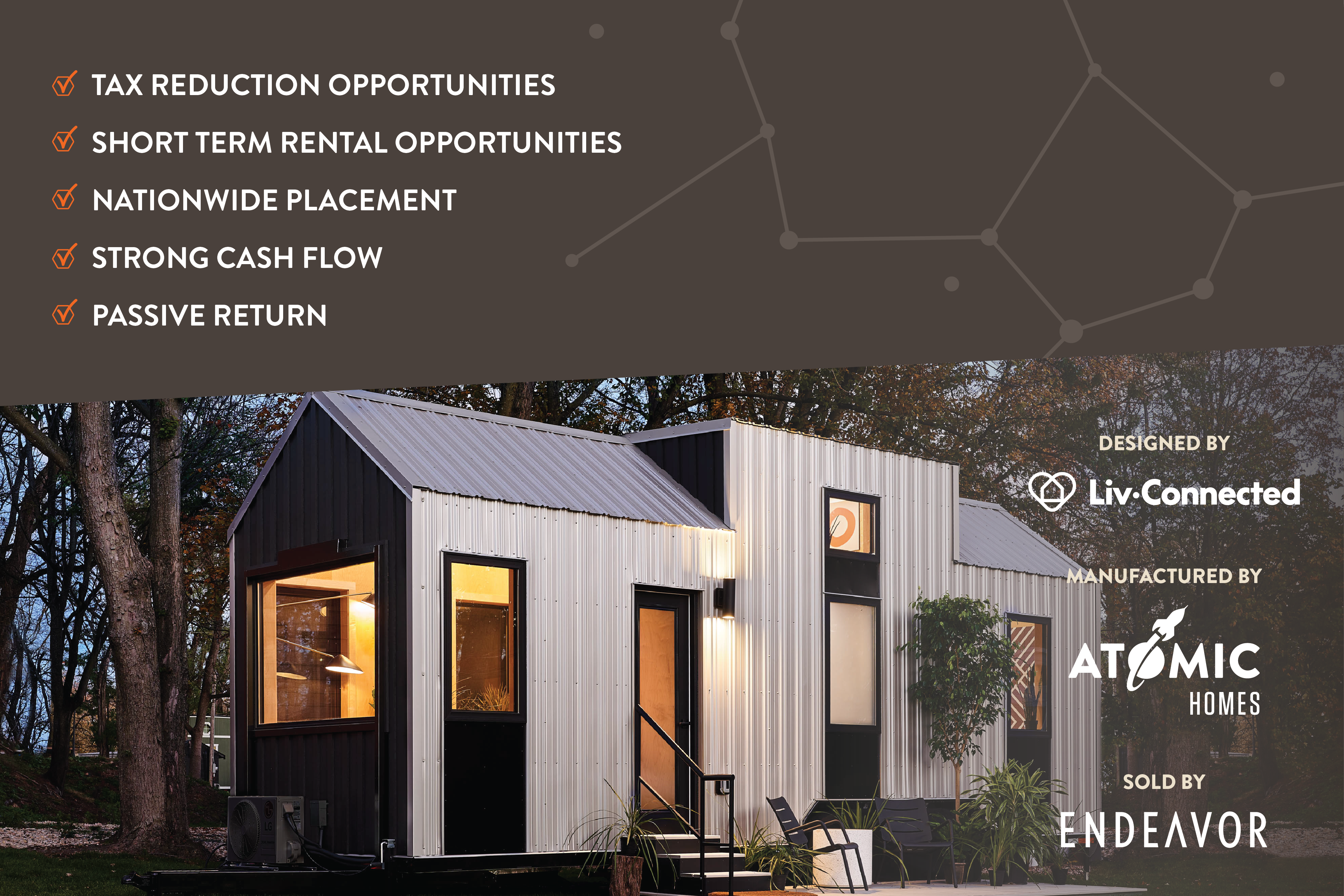 Why Choose Tiny Homes for Investment?
Tiny homes represent the future of smart, sustainable living and promise not just a beautiful way to dwell, but also a lucrative avenue for passive income. These tiny wonders are in high demand for vacation rentals and Airbnb hosting, making them a fantastic source of financial gain. But here's the real kicker: our dealer can provide exciting partnership opportunities to make this investment a breeze. They can connect you with prime locations and take care of every detail, from cleaning to managing your Airbnb, ensuring a seamless income stream.
Unlocking Your Investment Opportunity with VIA Park Model RV Tiny Homes
For those seeking a shrewd investment, consider the VIA Park Model RV (PMRV), designed by Liv-Connected, manufactured by ATOMIC Homes, sold by Endeavor. Our options include ready-to-purchase inventory homes, or customized designs, allowing you to create the investment property of your dreams. These compact VIA PMRV tiny homes  present a unique opportunity to expand your income portfolio. Plus, our dealers can provide partnership opportunities that allow you to rent the homes and receive a handsome return on your investment. 
Turning Your Tiny Home Dreams into Investment Reality
Not sure where to place your tiny home or how to manage it? Our dedicated dealers have you covered. They specialize in locating prime spots for your tiny home investments and with rental and management experience they can provide tiny home market insight to help improve overall return. They handle everything from cleaning to landscaping and expertly manage your listing, ensuring a hassle-free and profitable experience.
Financing Tiny Homes for Income
Our dealers work with a specialized lender that offers attractive financing options, including the potential to finance up to four tiny homes simultaneously. This partnership not only makes investing in tiny homes more accessible but also diversifies your investment portfolio. It allows you to leverage multiple tiny homes for income and specializes on the growing demand for these eco-friendly, space-efficient dwellings, making it a savvy way to embark on your investment journey in the world of tiny homes!
Conclusion
Investing in a tiny home delivers not only financial benefits but also an environmentally conscious and minimalist lifestyle. The advantages of this investment are manifold, from the convenience of a minimalistic lifestyle and a reduced environmental footprint to creative living spaces and financial gain. Your future as a tiny home investor starts here.
Take action today and reach out to a dealer to learn more about investing in a tiny home. Click here to get started!